Another dog to add to the big story-PtL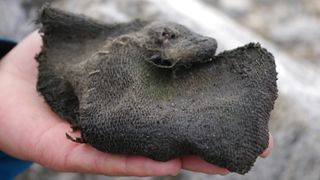 (Image: © Antiquity Publications Ltd/Photo: Johan Wildhagen, Palookaville)
Archaeologists recently documented a rare treasure trove of Viking Age objects littering a long-forgotten mountain pass, including the remains of a dog wearing its collar and leash.
As climate change melts Norway's glaciers, pockets of history hidden for centuries or millennia are finally seeing the light of day. Melting along a high-altitude trail in the Lendbreen glacier has revealed hundreds of artifacts dating to the Viking Age, the Roman Iron Age and even the Bronze Age.
Remarkably well-preserved items littered the winding path, including clothing and shoes, a variety of tools and riding gear, and animal bones and dung. They offer clues about daily life, and hint at the challenges and importance of mountain travel in this region, according to a new study published online April 16 in the journal Antiquity.